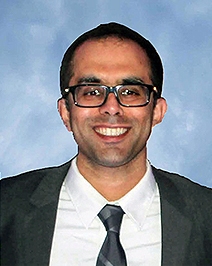 Amar Amin, MD
Vascular Interventional Partners, Inc
935 S. Sunset Ave
West Covina, CA 91790
Office: 626-727-6262
Fax: 866-443-6826



Undergraduate: UC Berkeley, B.S. Business Administration, B.A. Molecular Cell Biology
Medical School: University of Southern California, Keck School of Medicine
Radiology Residency: Maricopa Integrated Health, mini fellowship in Interventional Radiology and Musculoskeletal Imaging
Interventional Radiology Fellowship: University of California, Irvine
Academic Interests: Peripheral Arterial Disease/Critical Limb Ischemia/Limb Salvage, Interventional oncology, Uterine Artery Embolization, Venous disease
Extensive experience with treatment of hemodialysis circuit management, peripheral arterial disease, treatment of portal hypertension/TIPS/BRTO, interventional oncology/embolization.
Ezra T. Fraser, MD
Vascular Interventional Partners, Inc
935 S. Sunset Ave
West Covina, CA 91790
Office: 626-727-6262
Fax: 866-443-6826
Email: drezrafraser.vip@gmail.com

Vascular Intervention Specialist, Inc
19231 Victory Blvd Ste 155
Reseda, CA 91335
Office: 818-949-2630
Fax: 818-561-3746
Email: ezrafraser@gmail.com
Dr. Fraser earned his Medical Degree at the University of California, San Francisco. While in medical school he participated in the prestigious Medical Scholars Program and also authored a paper detailing the CT and MRI findings of renal vein thrombosis due to metastatic disease.
His post graduate training began with one year of general surgery internship at the Alameda County Medical Center in Oakland, California. Following this, Dr. Fraser attended the Yale University/Norwalk Hospital residency in Diagnostic Radiology. While in residency he authored a study illuminating the over-utilization of CT angiography for pulmonary embolus in the emergency room setting. Dr. Fraser received his sub-specialty training in Vascular and Interventional Radiology at the University of Southern California.
Dr. Fraser is a diplomate of the American Board of Radiology as well as a member of the Radiological Society of North America (RSNA) and Society of Interventional Radiology (SIR).
Ezra T. Fraser M.D. is a native Californian. He is a veteran of the United States Air Force, and served during Operation Desert Storm. Serving as a Senior Airman in the Medical Services Corps, his training as a military surgical technologist served as an introduction to medicine. While serving, he received numerous honors including the Air Force Achievement Medal, the National Defense Service Medal, and the Outstanding Unit Award. Dr. Fraser is passionate about caring for Southern California veterans.
When he is not working, Dr. Fraser spends his time enjoying surfing, snowboarding, hiking and gardening with his wife.